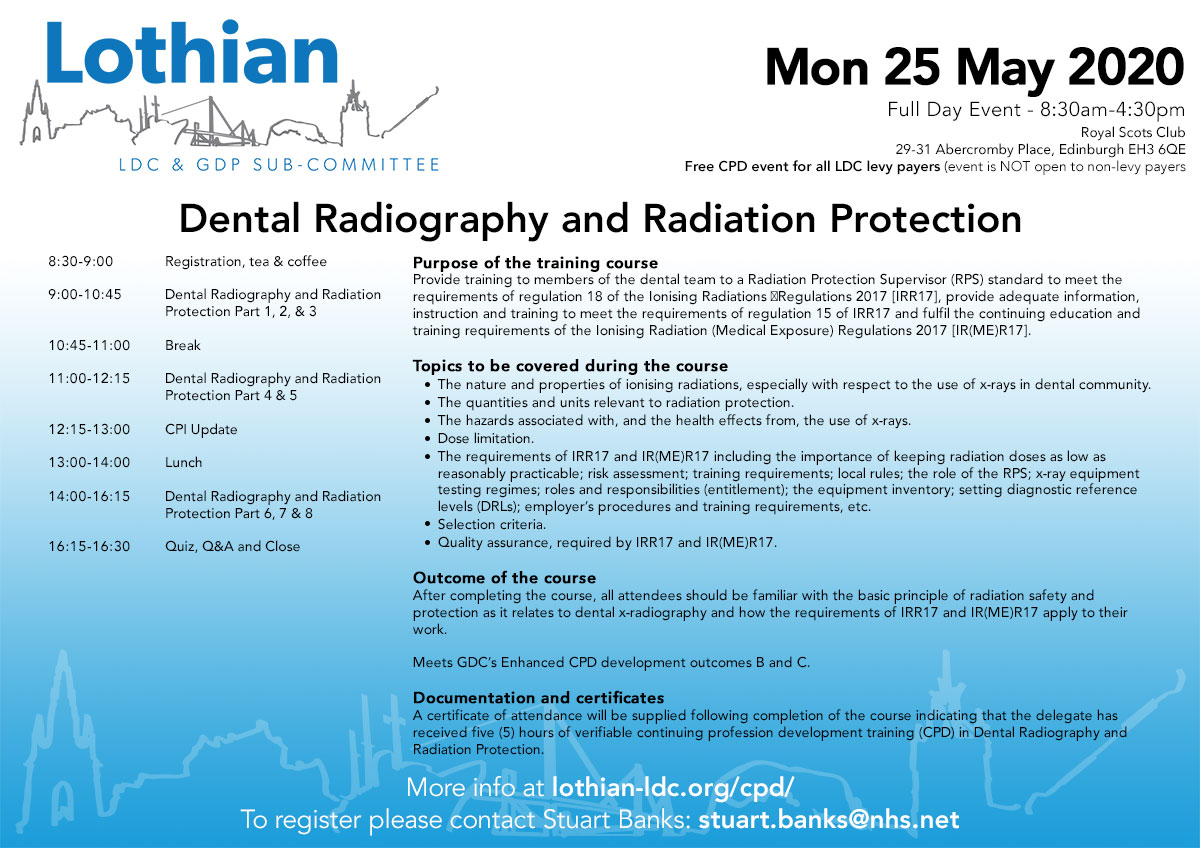 Dental Radiography and Radiation Protection training course
Purpose of the training course
Provide training to members of the dental team to a Radiation Protection Supervisor (RPS) standard to meet the requirements of regulation 18 of the Ionising Radiations 
Regulations 2017 [IRR17], provide adequate information, instruction and training to meet the requirements of regulation 15 of IRR17 and fulfil the continuing education and training requirements of the Ionising Radiation (Medical Exposure) Regulations 2017 [IR(ME)R17].
Topics to be covered during the course
The nature and properties of ionising radiations, especially with respect to the use of x-rays in dental community
The quantities and units relevant to radiation protection
The hazards associated with, and the health effects from, the use of x-rays.
Dose limitation.
The requirements of IRR17 and IR(ME)R17 including the importance of keeping radiation doses as low as reasonably practicable; risk assessment; training requirements; local rules; the role of the RPS; x-ray equipment testing regimes; roles and responsibilities (entitlement); the equipment inventory; setting diagnostic reference levels (DRLs); employer's procedures and training requirements, etc.
Selection criteria
Quality assurance, required by IRR17 and IR(ME)R17.
Outcome of the course
After completing the course, all attendees should be familiar with the basic principle of radiation safety and protection as it relates to dental x-radiography and how the requirements of IRR17 and IR(ME)R17 apply to their work.
Meets GDC's Enhanced CPD development outcomes B and C.
Documentation and certificates
A certificate of attendance will be supplied following completion of the course indicating that the delegate has received five (5) hours of verifiable continuing profession development training (CPD) in Dental Radiography and Radiation Protection.
Dental Radiography and Radiation Protection training course
08:30- Arrival, tea, coffee
08:45 – Registration
09:00 -10:45
Part 1

Introduction, what we're going cover, discussion on the radiation protection experience within the room and a brief overview of legislation and regulatory guidance currently in force

Part 2

The nature and properties of x-radiation
Quantities & units you should be familiar with
Direct and indirect factors affecting radiation dose

Part 3

Radiation effects – tissue reaction (deterministic) & probabilistic (stochastic)
Risks in perspective
The relevance of radiation dose limits, dose investigation levels and dose constraints
10:45 – 11:00 Break
11:00 – 12:15
Part 4

Requirements of IRR17. Including notification; risk assessment; consultation with an RPA; suitable training; co-operation, equipment testing regimes.

Part 5

Understanding best practice for the layout and arrangements of the dental x-ray equipment and the room used for x-radiography
12:15 – 13:00 CPI update – Donna Hickey
13:00 – 14:00 Lunch
14:00 – 16:15
Part 6

Requirements of IR(ME)R17; including practitioner, referrer and operator roles, entitlement and responsibilities, justification, referral criteria; obtaining medical physics expertise; Diagnostic Reference Levels (DRLs), equipment inventory

Part 7

Selection criteria exercise

Part 8

Quality Assurance – what should be reported on, recorded and how often
16:15 – 16:30 Quiz, Q & A and CLOSE